Profile: The Toyota Corolla
Profile: Toyota Corolla in San Diego
We, at Express Auto Auction, wanted to profile some of the cars we frequently see on our lots. The Toyota Corolla is definitely one of those. Let's cover some facts about this legendary make and model, and what to expect at our auction lot.
Should I Buy a Toyota Corolla?
The Toyota Corolla is a widely successful compact car that has been on the streets since November 1966. It came to the U.S. in 1968 and over 50 million have been sold worldwide as of 2021.
Whether compact sedan or hatchback, gas or, as of 2013, hybrid, you'll see them all the time on the freeways, back roads, and residential streets of San Diego.
Why so many sold?
Because you can drive that thing into the pavement! Its longevity, reliability, and affordability have made it an easy choice for millions, including this guy… right here.
What are the best used cars?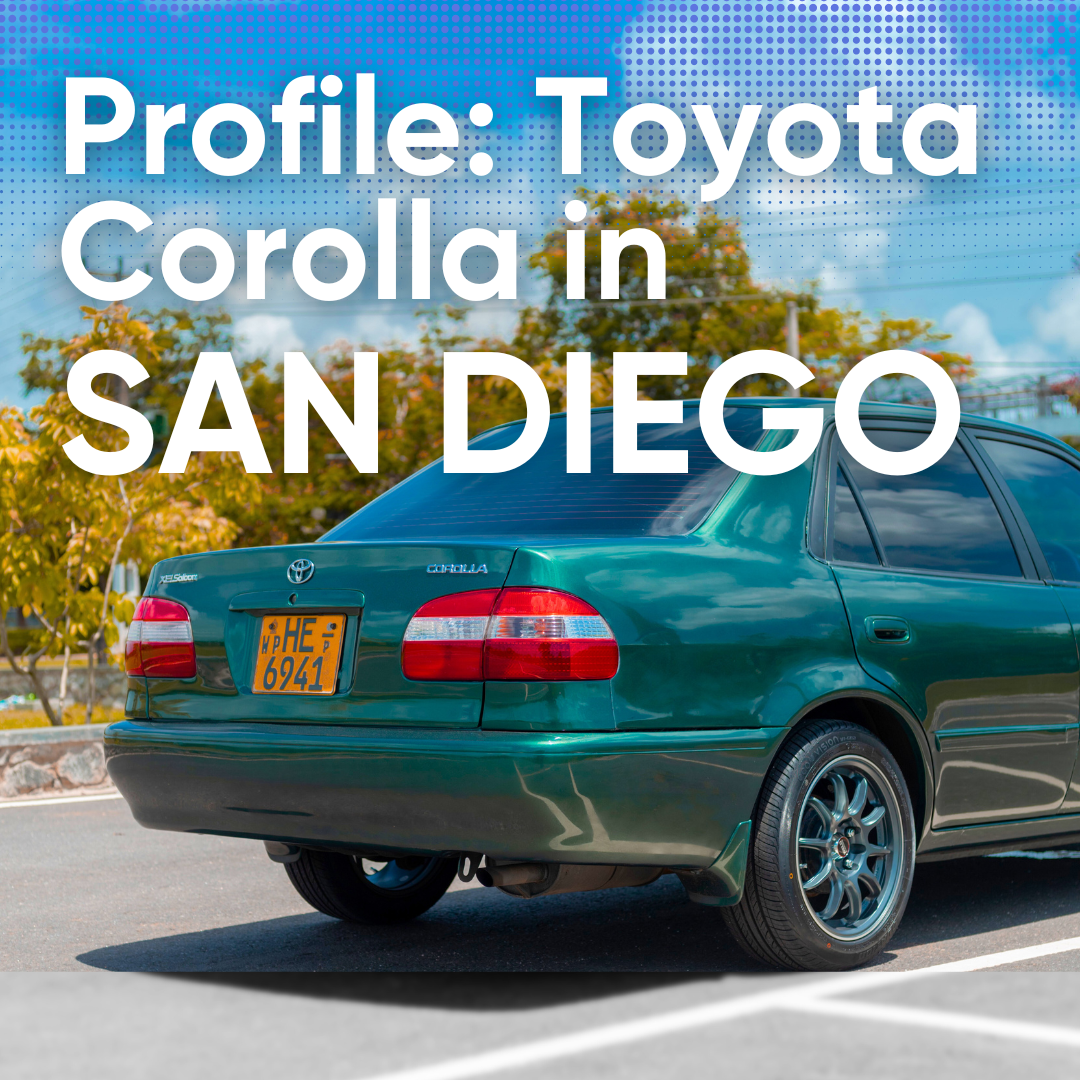 The Best Used Toyota Corolla
How long does a Toyota Corolla last? It kind of feels like forever. We often see Corolla's on our lot with well over 200,000 miles.
If you're looking for the best Toyota Corolla years, here's a brief breakdown: (we definitely favorite the used models because they have passed the test of time, and you know, being a car auction we're sort of partial to used cars) 😅
2002 Toyota Corolla (8th generation)

Statistically, few cars can match these old Corollas. They just keep going, no matter what.

2008 Toyota Corolla (9th generation)

Nothing fancy to the redesign but a noticeable decline in complaints and problems.

2013 Toyota Corolla (10th generation)

Reliable, comfortable, and economical.
All of these models scored high for reliability, handling, safety, and (drum roll) budget.
Honorable Mention: 2018-2022 Toyota Corolla (11th and 12th generations)
Make no mistake, the new Corollas are great cars according to the experts, pundits, and drivers across the country, however, you won't see as many of these newer models at Express Auto Auction… yet.
Check out our auction calendar.
The Worst Used Toyota Corolla
It's not like these models were terrible, they still stack up well against many other car brands, but when you're comparing a Corolla against another Corolla, there will be losers. Just think twice about these Toyota Corolla years.
2014 Toyota Corolla (11th generation)

Something just didn't go right for this generation. Electrical problems, airbag problems, AC malfunctions, and so on.

2012 Toyota Corolla (10th generation)

Brakes, airbags, and even unintended acceleration. 😳

2011 Toyota Corolla (10th generation)

More airbags issues (I'm sensing a pattern here), AC again, and engine trouble.

2010 Toyota Corolla (10th generation)

Only beaten out by the last model on this list, the 2010 Corolla had steering problems and, you guessed it, airbag problems, among other things.

2009 Toyota Corolla (10th generation)

If any Toyota could be considered a lemon, this would be it. Steering, airbag, excessive oil consumption, engine noises, and water pump failures.
Honorable Mention: Watch out for the 2006–2007 models as well.
The 9th and 10th generations were plagued by bad models. But overall, it's still a great idea to put your trust in a Corolla.
Finding a Toyota Corolla at Auction in San Diego
You won't have trouble finding one of the most popular cars at auction.
As of this article, Express Auto Auction had 45 Toyota's on the lot, including 13 Corolla's. The number and the years available varies but we often seen more than ten Corolla models, ranging in years from the late 90s to just a few years ago, and they will go fast, especially if they have low mileage.
Bidders know that Corolla parts are cheap and common, mechanics can fix them in their sleep, and once fixed, that Corolla will serve you faithfully for years, with minimal maintenance, until it dies.
What's a Good Price for a Toyota Corolla?
A 12th generation Corolla can run you over $20,000 easily.
For a later 90s Corolla or early 2000s at Express Auto Auction, expect to bid upwards of $5,000 depending on the odometer and condition. That's likely a savings of a few thousand compared to a dealership.
By the way, are auctions a good deal?
Many of us San Diegans need a quality car we can depend on without high monthly car payments or lots of maintenance. The Toyota Corolla has proven, time and again, to be a car worth investing in.
Get busy bidding. 👏