Used Trucks with the Best Gas Mileage
Older Trucks with the Best Gas Mileage
New trucks are expensive. Even used trucks can run up a price tag. However, the best used trucks out there are still worth it. We're pretty confident that you can find a solid truck for a reasonable price at Express Auto Auction in San Diego.
Gas mileage wasn't a big priority for car manufacturers until gas prices started to greatly soar in the mid 2000s. Late 90s models and early 2000s, which you will often find at our auction lot will be the most affordable.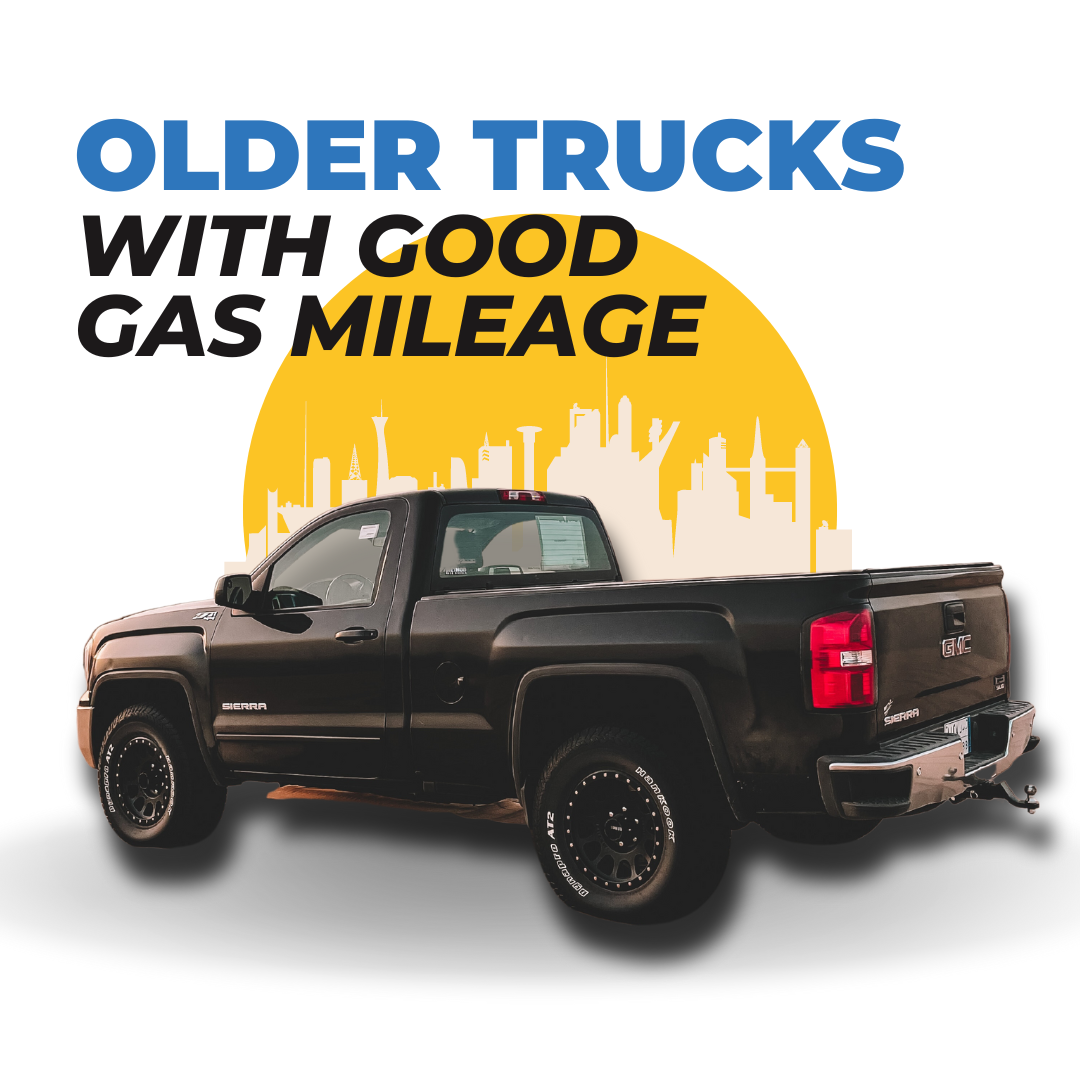 But which older trucks have the best gas mileage?
Here's an overview of older truck makes and models that are fuel efficient; and by fuel efficient, we mean at least 20 MPG combined city/highway. We're not playing around here. 🛻
While not the gas mileage of a Toyota Prius, these trucks bring all the awesome power, comfort, and durability of a truck, while sacrificing as little as possible at the pump. ⛽
Compact Pickup Trucks
The Ford Ranger is a good option for older trucks with good gas mileage. When browsing our auction lot inventory, look for 2009–2011 models, where you can earn up 26 MPG combined.
Even late 90s and early 2000s Ford Ranger's can still earn up to 22 MPG.
The Mazda B-Series should not be overlooked. Early 2000s models, particularly the manual 5-speed, could earn you 23 MPG combined.
The late 90s Dodge Dakota Pickup has earned up to 20 MPG combined city/highway.
Midsize Pickup Trucks
A solid midsize option from Chevrolet is the late 90s, specifically the 1997, Chevy S10 with a combined 23 MPG.
Another reliable Chevy truck is the Chevrolet Colorado. 2016 models will earn 24 MPG combined, and older more affordable models between 2009-2012 will also earn 22-24 MPG combined.
Browse our Chevrolet inventory!
The GMC Canyon boasts a similar performance to the Chevrolet Colorado. 2009–2016 models average around 24 MPG combined highway and residential.
There are a lot of Toyota Tacoma fans out there and here's why. They are known for their reliability and decent fuel efficiency. The 2009–2013 models, in particular, offer a good balance between fuel economy and being a workhorse, earning upwards of 26 MPG.
Nissan shouldn't be ignored! The Frontier is not the most fuel-efficient, but it's a very affordable option. Early 2000s models and earlier are often found at our auto auction and can earn upwards of 20-22 MPG.
Full-size Pickup Trucks
The 2015 Ford F-150 claims an impressive 26 MPG combined, which is the best among 2009-2016 models. 👏
Another Chevy entry, the Chevrolet Silverado Hybrid 2005-2013 models earn a sightly better 23 MPG than the standard model's 21 MPG. The 2009, especially, is a great choice. These are big trucks, so 21-23 MPG is fantastic!
The GMC Sierra Hybrid 2009-2013 models improved slightly better than original models at around 20-21 MPG.
The 2015 Ram 1500 EcoDiesel gets a whopping 30 MPG highway and 24 MPG combined. How about that! ✅
The standard models, years 2014 and 2016, are no joke either, performing well in fuel economy.
Another nod has to go to the 2009-2012 Suzuki Equator 4-cylinder which can earn up to 21 MPG combined.
Wondering what are the best used trucks under $10,000?
Crossover Trucks
The Honda Ridgeline is often considered a "crossover" truck due to its unibody construction. This gives it an advantage in gas mileage compared to body-on-frame trucks. The 2017 model especially stands out when it comes to gas mileage, earning around 22 MPG combined, 26 highway. 😎
Pickup Trucks Under $5,000
It'll be tougher to find fuel efficient trucks under $5000 since that price likely means an older model. Think 90s and early 2000s.
What are other great used cars under $5,000?
Expect to pay more at a dealer even for these older trucks. You'll more than likely save money at Express Auto Auction. A late 90s or early 2000s Nissan Frontier, Toyota Tacoma, Ford Ranger, or GMC Canyon is a good bet to be under $5,000. Just expect at least 150,000 miles.
We wish you the best of bidding! 👍