The Most Reliable Used Cars: List of 5 Factors
The Most Reliable Used Cars: List of 5 Factors
Written by a Yugo (the worst car ever made)
Cheap and Reliable Cars - Can You Find Both?
Do any of these sound like you?
"I'm looking for a cheap, reliable car so my daughter can get to her destination safely."
"I'd rather drive a beat-up old civic than a shiny new car without breaking the bank."
"I'm a college student on a tight budget. A used, reliable, car with a few dents and scratches is all I need."
"Cars depreciate, why bother buying top dollar for a new one? I don't need all the bells and whistles that come with new cars. Give me an old, reliable, car."
Chances are, reliability is critical to how you buy a used car. Cheap, reliable cars sound too good to be true.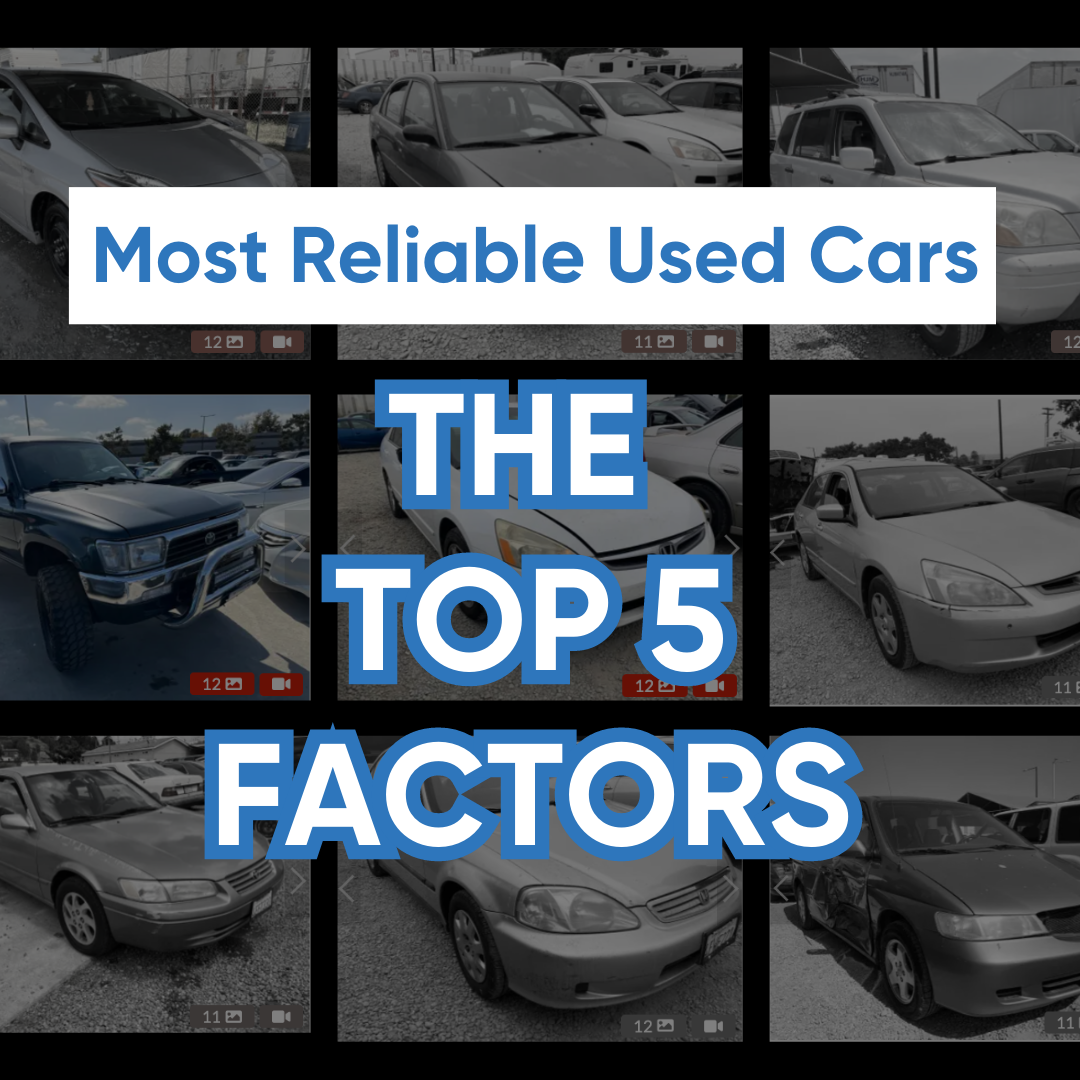 Nobody wants to spend a large amount of money on a car only to have it break down frequently or require constant maintenance that adds up in cost.
But what makes a car reliable, and do you have to sacrifice style and features for reliability? In this article, Express Auto Auction in San Diego explores, what we think, are 5 key factors that contribute to car reliability.
1. Reliable Car Brands
First and foremost, the most dependable cars largely come from the most reliable car brands.
Some manufacturers have a reputation for building reliable cars, while others are known for producing models that are prone to breakdowns.
Consumers can research a manufacturer's reputation for reliability through various sources such as consumer reports, online reviews, and industry awards.
However, it is important to note that individual models within a brand may vary in reliability.
Quality car parts greatly contribute to reliable cars. Cars with high-quality parts tend to last longer and require less maintenance than those with low-quality parts.
Manufacturers that use top-quality components and have a rigorous quality control process tend to produce more sound vehicles.
Express Auto Auction has some of the most trusted and reliable car brands on the lot. Check out our inventory here.
2. Consistent, Regular Maintenance
Good reliable used cars are regularly maintained. This is essential to the health of your vehicle.
Regular maintenance includes oil changes, tire rotations, and other routine upkeep. Don't ignore that owner's manual that often comes with the car.
When cars hit mileage milestones such as 60,000 or 100,000 miles for example, timing belts or chains, spark plugs, or brakes may need repairs.
Sticking to the manufacturer's recommended maintenance schedule can help ensure that a car stays in good condition. Remember, vehicles that are well-maintained tend to last longer and perform better.
3. Driving Conditions
In addition to regular maintenance, reliable used cars are affected by driving conditions. Cars that are driven in extreme conditions, such as hot or cold temperatures, or on rough roads or in salty air like here in Southern California, tend to experience more wear and tear, which can lead to breakdowns.
Similarly, cars that are driven aggressively (quick stops or high acceleration) or are used for towing or hauling heavy loads may require more maintenance and repairs.
4. Technology
Technology is often seen as a feature in used cars. More advanced climate control, audio, connectivity, etc. make a car more attractive and enjoyable but also have more parts to maintain.
The most reliable used cars don't always come with the latest gadgets.
While advanced features like lane departure warning, adaptive cruise control, and blind-spot monitoring can enhance a driver's safety and comfort, they can also introduce new potential points of failure, i.e. the sunroof on my Audi stopped working and it sucked!
More parts mean more maintenance. Sophisticated technology systems may require more frequent repairs, and parts may be more expensive and harder to find.
5. Age & Mileage
Finally, a car's age and mileage also play a role in used car reliability.
You'll find cars from the 60s through just a few years ago and mileage from under 25,000 to over 200,000 at Express Auto Auction. Browse our auction inventory of reliable cars.
Older cars with higher mileage are more likely to experience breakdowns and require more maintenance and repairs. However, this does not mean that older cars are unreliable.
A well-maintained older car can still be reliable, while a poorly maintained newer car may be unreliable.
In conclusion, a reliable car is one that is
built by a reputable manufacturer and uses high-quality components

is well-maintained

is driven safely

has a manageable level of technology

and hasn't reached the end of its lifespan
So, What Makes a Reliable Used Car?
While there is no guarantee that a car will be completely problem-free, taking these factors into consideration can help increase the likelihood of owning a reliable used car.
It is also important to note that a car's reliability can be subjective, as different drivers have different expectations and experiences with their vehicles.
Take the time to do your research and carefully consider your own needs and preferences before purchasing. Then start bidding, here's our auction calendar!
Express Auto Auction is open to the public. We stress open communication and integrity, and have well over 100 years of combined experience in the auto auction industry.
Give us a call, (619)-661-1918, or register to bid.