Your San Diego Used Car Checklist
A Handy Used Car Checklist
What to look for when buying a used car in San Diego?
Buying a used car can be an exciting but nerve-wracking experience.
You're thinking about getting a good deal, but also getting a reliable used car. Every auction, including Express Auto Auction, recommends a full inspection of the car before bidding.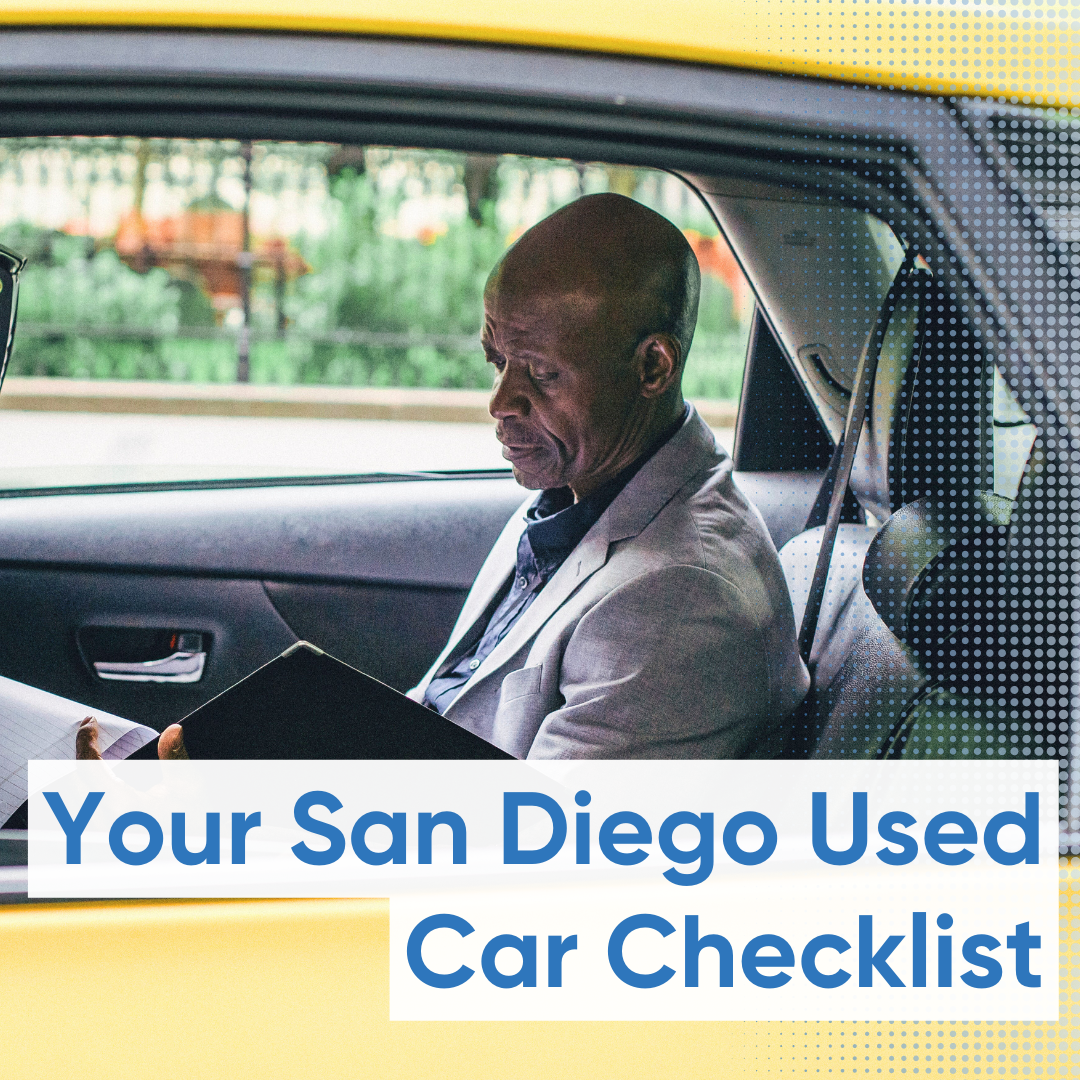 It's what we call "kicking the tires". But what things do you look for? In this article, we have a used car inspection guide that will help you when you pay the lot a visit.
Express Auto Auction has two lots, one in San Diego, and one in Vista, open from 9am to 5pm Monday through Friday. Thumb through our inventory to find the used car that is right for you.
Let's get to your very own used car checklist. Feel free to print or download it and take it with you to the lot!
Express Auto Auction's Used Car Buyer's Checklist
1. Car Exterior
A car's exterior can reveal a lot about its condition. San Diego is not known for its punishing climate, but weather isn't the only cause of damage.
Signs of damage, such as dents, scratches, or rust. ______

Body panel condition: aligned, paint matches. ______

If you notice any discrepancies, it may indicate that the car has been in an accident.

"Kick the tires!" Check tire condition, including tread depth and wear pattern. ______

Uneven wear may indicate an alignment issue or other problems.

Check the condition of the headlights, taillights, brake lights, indicators. ______
2. Car Interior
Next on your used car inspection checklist is the interior of the car.
Inspect the seats, carpets, and dashboard for any signs of wear and tear, such as stains or tears. ______

Test all the buttons and controls, including the stereo, air conditioning, and heating system. Note ones that don't work. ______
3. Car's Engine
The engine is the heart of the car. A used car inspection checklist is never complete without a good look at the engine.
Check the oil level and look for any signs of leaks or rust. ______

Check the transmission fluid level and inspect the belts and hoses for wear and tear. ______

If you notice anything that looks out of place, it may indicate an unreported problem or that the car has not been maintained properly.

Remember to listen to the engine. How it sounds when it starts, when it's running, and when it's accelerating may reveal unseen issues. ______

You might want to bring a friend for this. 😉
4. Undercarriage
The undercarriage of the car is often overlooked, but it can tell you a lot about its condition. Every city, including San Diego, has its share of potholes, but you don't know if the car was used on weekend excursions up dirt roads, on work sites, or over bumpy terrain.
Check for any signs of rust or damage, including the exhaust system and suspension. ______

If you notice any problems, it's important to have them fixed before they become bigger issues.
5. Test Drive
A test drive is critical to your used car checklist. This is how you "feel" the car. San Diego is increasingly congested, which means more braking.
Pay attention to how the car handles, especially when accelerating, braking, and turning. Note problems. ______

Try to take note of any unusual sounds, rattles, squeaks, clinks, or vibrations. ______
6. Vehicle History
Finally, it's essential to see a vehicle history report. These reports often show past accidents or damage. ______
It will also provide information about the used car's maintenance and repair history, which can help you determine whether it has been well cared for.
Definitely Don't Buy a Used Car in San Diego without a Checklist
Before letting your excitement at finding a great used car carry you away, the inspection checklist will save you a lot of time, pain, and potentially money.
Follow this used car inspection checklist to feel a lot better about your purchase.
Remember, it's always better to be safe than sorry when it comes to buying a used car, so take your time and don't rush into anything. With a little patience and diligence, you'll find the perfect used car for your needs.
Express Auto Auction has online auctions every Wednesday at 9AM. Check out our calendar.